Financing
All Angles Covered understands that repairing or replacing your roof is a major investment. An unexpected repair or replacement can often cause a financial dilemma.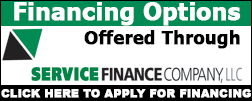 If you find yourself in this situation, rest assured we can help you find solutions.
If you have any questions regarding financing, please contact our office and we'll be glad to help you. You can afford that new system with easy monthly payments!